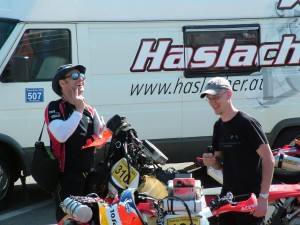 www.tuareg-rallye.com
See my Home page for details.
My fantastic rally crew in photos.
7-14 March 2015 will be our 13th year on the Tuareg Rallye.
The rally will be back in Morocco after two years in Tunisia.
Over the years we've supported everyone from complete beginners who have never ridden off-road before to rally experts practising for the Dakar – So, yes!…you can do the Tuareg Rallye, whatever your skill.
We've had WR250s to R100GS BMWs.
We've had Suzuki SJs to H1 Hummers!
Our assistance vehicles include:
Yamaha TT600
2 x Yamaha Pro-Hauler Quads
Renault Kangoo 4×4
Ford Transit
Landrover Defender 130
Leyland-Daf T244 4×4 7.5t truck
For more details, ask for my Tuareg Info Pack.
Touring through Lincolnshire?
On your way South or North?
Need your bike looked at?
Turn up on any model of XT or TT and you're very welcome to stay in my little B&B annexe for free…you might have to make you own breakfast though!
Own private entrance, secure indoor bike parking, double bed, shower/washroom/toilet, kitchenette.
Or if you prefer or if there are more than two of you, you can pitch a tent in my garden.
Located between Boston and Skegness.
What tools & equipment should you take on an overland trip?
We all take far too much clobber on our first few trips. I have been refining and revising a couple of lists for 20 years now. Tools. Spares.
The first thing I suggest you do is get on Ebay and buy a couple of 'CK Magma MA2718′ tool rolls. It has taken me years to find these and they're a work of art! At last a decent size tool roll. 31 pockets and 2 decent straps to hold it all rolled tight. Tool boxes are useless on a bike; everything constantly jangles about and gets rubbed together, wrecking everything. Tool rolls protect everything in a nice compact lump.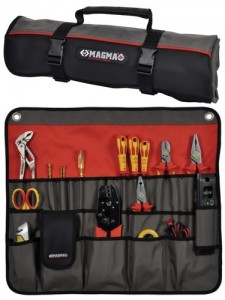 Next, do all your prep' and servicing during the 6 months before you depart on your trip using only the tools you plan to take; that way you'll find out what you do and don't need. Do you need that 11mm/15mm/16mm spanner/socket? Why are you taking Pozidrive screwdrivers, shouldn't they be Phillips? Is there one spanner that will suit both wheel spindles? Why take 30 feeler gauges when you only need 2? Have you tried your spoke spanner? Do you need those long socket extensions? Have you done the right thing and ditched your original OE tool kit? Have you learned how to use a cheap £5, but perfectly adequate, Ebay multimeter? Do you know that if a 12v lead-acid battery reads 12v it is almost flat? Out of interest, 12.8v = fully charged.
More soon…Lists soon…Photos soon.